Introducing the New Era of Editing, Distribution, and Delivery
Broadcast & Media companies are evolving and making a rapid transition to cloud-based workflows and automating broadcast operations for program transmission, master control, news production, and live production. Today's KVM technologies play a pivotal role in this transition allowing managers, editors, operators, and engineers to manage and rapidly reconfigure infrastructure, allowing ease of setup and configuration when time costs money. Black Box has extensive experience in developing KVM solutions for the Broadcast & Media Industry by working with clients to develop innovative KVM solutions.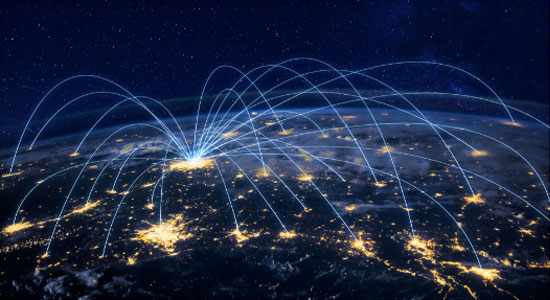 Streamline Operations for Content Delivery with Pioneering Broadcast Solutions
When it comes to broadcast and post-production, KVM is the secret ingredient that brings everything to life. Black Box can provide a large variety of KVM options that give you these benefits:
Enterprise-class KVM enables you to access systems from any location.
Scalable, futureproof solutions mean you can add servers and user stations as demand increases.
Improved modes of operation provide efficient workflows.
Meets the need for speed: KVM solutions switch video keyboard, mouse, and other peripheral devices in real-time.
Never fear, you won't have downtime. Redundancy and resiliency are built-in.
Streamlined Broadcasting Workflow
KVM systems, one of the hidden foundations of a broadcast facility, have evolved from being an occasional use tool for setup and troubleshooting into one of those infrastructure items that are used every moment of the day.
Post-Production
KVM supports end-to-end content acquisition and playout by ensuring distribution of reliable digital image quality and fast switch-over of redundant hardware when required, and also allows users to connect to several backup playout servers.
IP Broadcasting, Remote Broadcasting, & IP Playout
IP-based KVM provides remote access over the WAN to post-production video libraries and also gives broadcast control room or stadium control room mobile operators flexibility and fast setup times.
Choose Technology that Anchors Broadcast Solutions
Today's IT administrators face the challenge of deploying broadcast solutions that can span numerous devices over thousands of miles, and this can be a daunting task. Black Box KVM and video wall processing solutions ease the IT administrators' pain by providing comprehensive, scalable, futureproof installations via a variety of products, including Emerald high-performance KVM, multiview KVM, and KVM extenders, as well as video wall processors and enterprise KVM managers.
Customer Success Stories
Read how scalable, futureproof KVM solutions helped several customers optimize workflows and increase productivity.
Related Resources
White Paper: Broadcast and Post-Production Transition To Virtualization
Download White Paper
Flyer: Broadcast Solutions
Download Flyer
Blog: KVM in Broadcast - A Success Story
Read Blog
Blog: A Brief History of KVM in Broadcast
Read Blog
Blog: 5 Considerations for Selecting the Right KVM over IP Solution
Read Blog
Blog: Creating Exceptional User Experiences in Control Rooms
Read Blog
Why Black Box?
Just as your KVM control rooms are the connectivity point for all you do, we make a point of connecting your needs to our services. We bring human-centric technology solutions to assist you in a seamless adaptation toward today's dynamic broadcast and post-production control room environment and into the future. We analyze your broadcast and post-production requirements and suggest how technology can help meet those goals. We're committed to objective analysis and honest appraisals. By continually investing in R&D, world-class infrastructure, and bringing the best talent from all across the world, we co-create path-breaking broadcast and post-production technology solutions with our customers.
As in all human relationships, trust is crucial when building and sustaining strong business relationships. Black Box takes this to heart. We gather the finest minds, technology, and perspectives together under one banner for the explicit purpose of providing unparalleled and comprehensive service to you, our most valued customer and partner.
Know More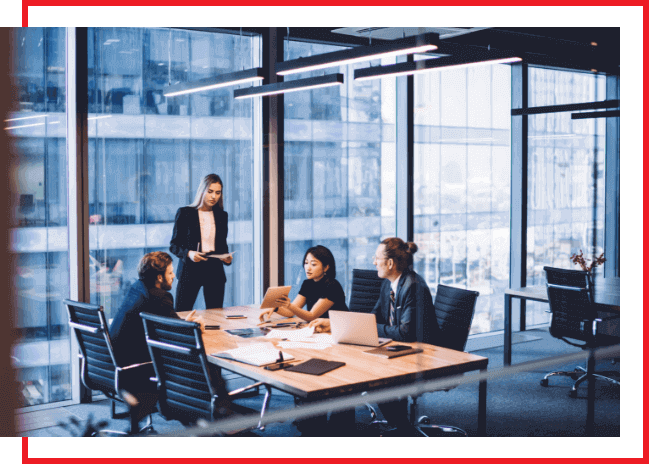 Black Box Solutions

Audio Visual Integrations

Reimagined Workplace

Cybersecurity

Customer Experience

Data Center

Structured Cabling & Infrastructure Integrations
Global Multisite Deployments

5G & Private LTE (OnGo)

Enterprise Networking

Digital Workplace

Connected Buildings