Fail-Safe, High-Performance Control Rooms for Critical Infrastructures
Complex processes in control rooms for utility, power, or oil & gas companies are part of a volatile critical infrastructure. Recent energy shortages, alternative energies, frequent cyberattacks, and sabotage acts add to the complexity.
Time is of the essence to protect your critical infrastructure. An ever-increasing amount of data needs to be quickly monitored and easily controlled to allow operators to respond instantly based on informed decisions.
Tailored AV/KVM/IoT solutions from Black Box installed in a central control room provide instant access to distributed systems or local command rooms, comprehensive data visualization, as well as data capture through intelligent IoT sensor hubs. These solutions are designed to help you mitigate inherent risks in your control room processes.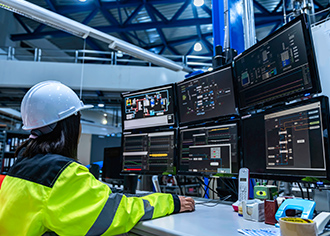 New Solutions Benefit Your Utility Control Room in Many Ways
Trust Black Box to deliver flexible, scalable, easy-to-install control room solutions tailored to your exact requirements. Simple-to-use solutions are ideal for collaboration. You get 24/7 fail-safe operation, improved situational awareness, and instant response times from highly secure systems, spanning multisite deployments, with long-term availability and global design support.

Signal Distribution Tailored to Your Needs
Choose technologies that best fit your exact requirements: number of workstations, screens, servers, and peripherals.

Flexible Seating and Scalable Design
Operators can work from their desks and access their workspaces through their login. Systems and users features can be added exactly in line with the control room upgrades.

Easy-to-Use, Ideal for Collaboration
Set up your control room with one-click presets, glide and switch systems with your mouse, enjoy a clean workspace, and share information.

24/7 Error-Free Fail-safe Operation
Get multiple levels of redundancy for links, power, devices, management, and manual or automatic network fallback switching.

Improved Situational Awareness
Multi-screen, multi-view, video wall processing helps you visualize data quickly, efficiently, and completely.

Instant Response Times
High-speed switching enables operators to respond in real-time to mitigate sensitive or dangerous conditions.

Highly Secure
Control room solutions deliver high-level network security, authentication tools, isolation between public and critical systems, and integrate security camera feeds.

Multisite Deployments
Connect distributed facilities, remote control rooms over LAN, WAN, and dedicated fiber links.

Long-Term Availability
These control room solutions won't go out of style; Black Box supports long product life cycles.

Easy to Install and Integrate
Pre-configured, compatible control room solutions require minimum training and are easy to manage with simple-to-understand configuration tools.

Global Design Support
An experienced, well-educated support team works together with system integrators and their end users, and includes virtual control room pre-planning.

Trusted Partner
With more than 40 years in the business and a large amount of successful utility control room rollouts and updates, Black Box builds control rooms around the world that are second-to-none.
Emerald KVM-over-IP
Consider these two ways of extending and switching signals over your network. With the Emerald 4K KVM Matrix Switching over IP system, you can extend and switch pixel-perfect HD or 4K video over a dedicated or existing IP network. With the DKM KVM system, you can directly connect your matrix KVM switching and extension system for instantaneous HD video switching. Watch the videos to learn more.
Learn how to extend and switch video, USB 2.0, and analog audio from any combination of physical and virtual desktops and servers.
See how the DKM KVM system works as a direct connect matrix KVM switching and extension system for instantaneous HD video switching.
Solutions
For the utilities industry, Black Box is your IT source to bring your control rooms to life. Leverage KVM over IP, direct connect, local control rooms, multisite deployments, or video wall solutions to keep you ahead of the technology wave. Choose from our comprehensive IT solutions to suit your requirements.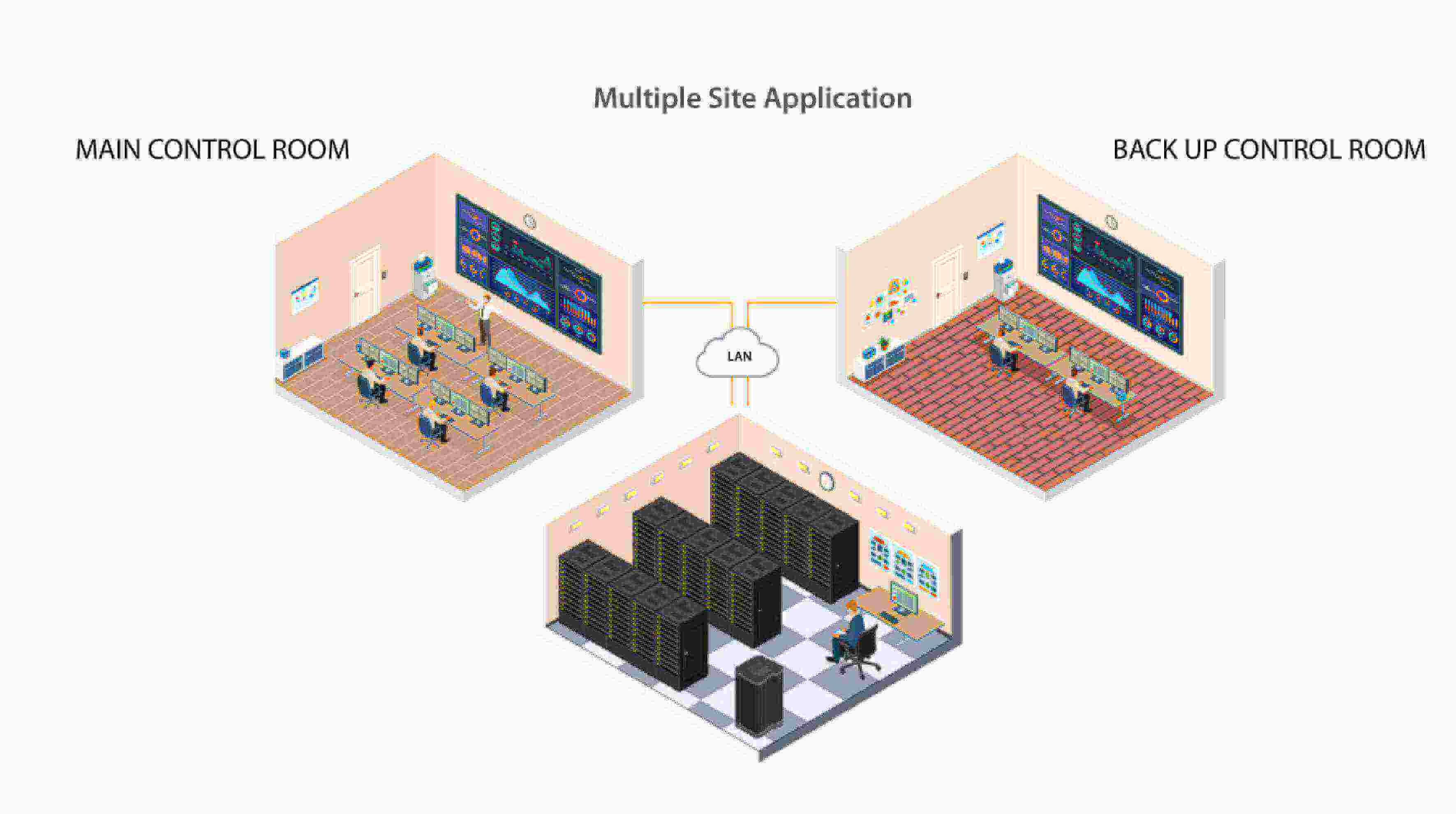 Multisite Deployments
Expand your IT control rooms to multiple sites with Black Box solutions.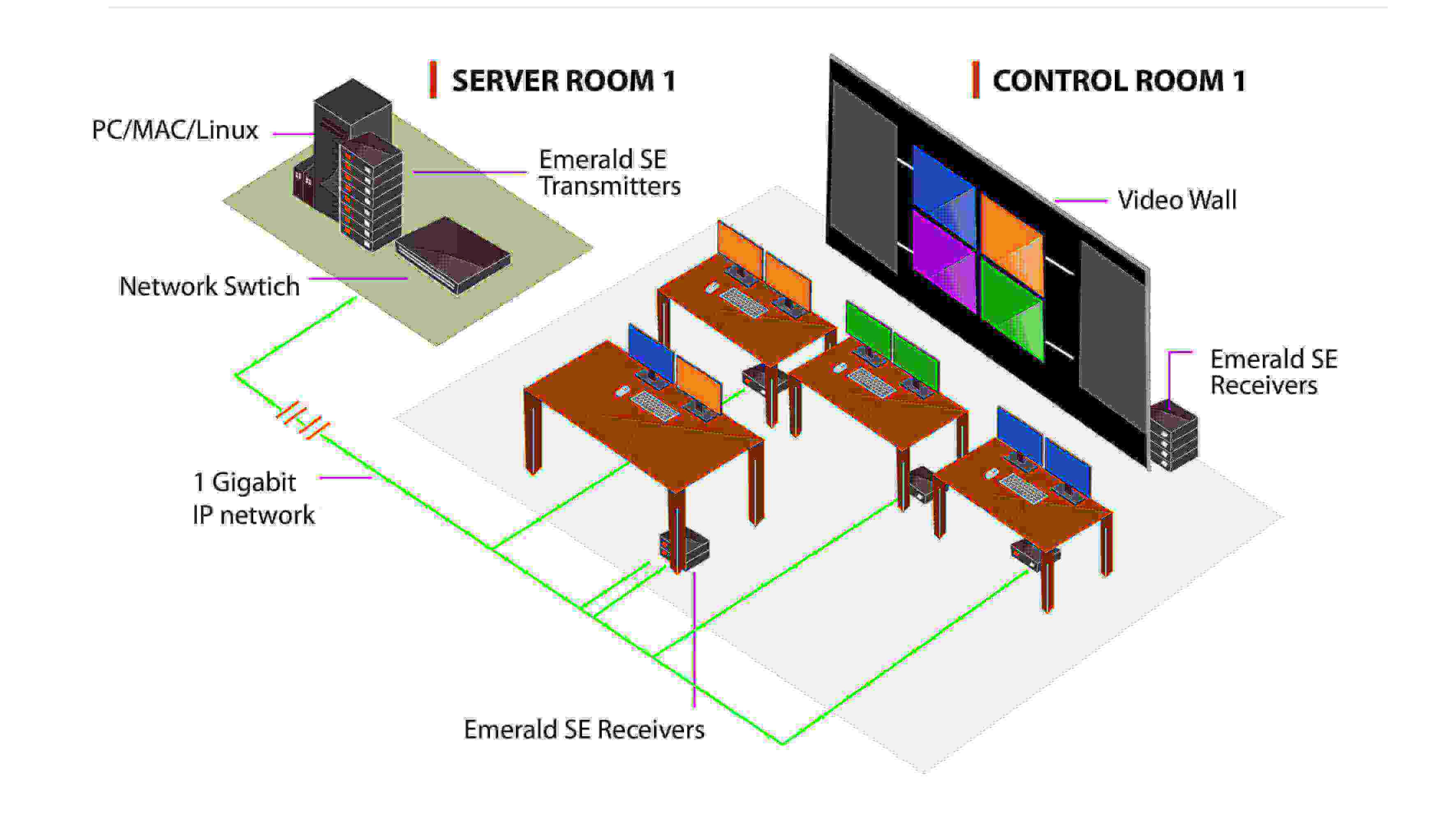 Local Control Room
Connectivity concept for smaller or remote control rooms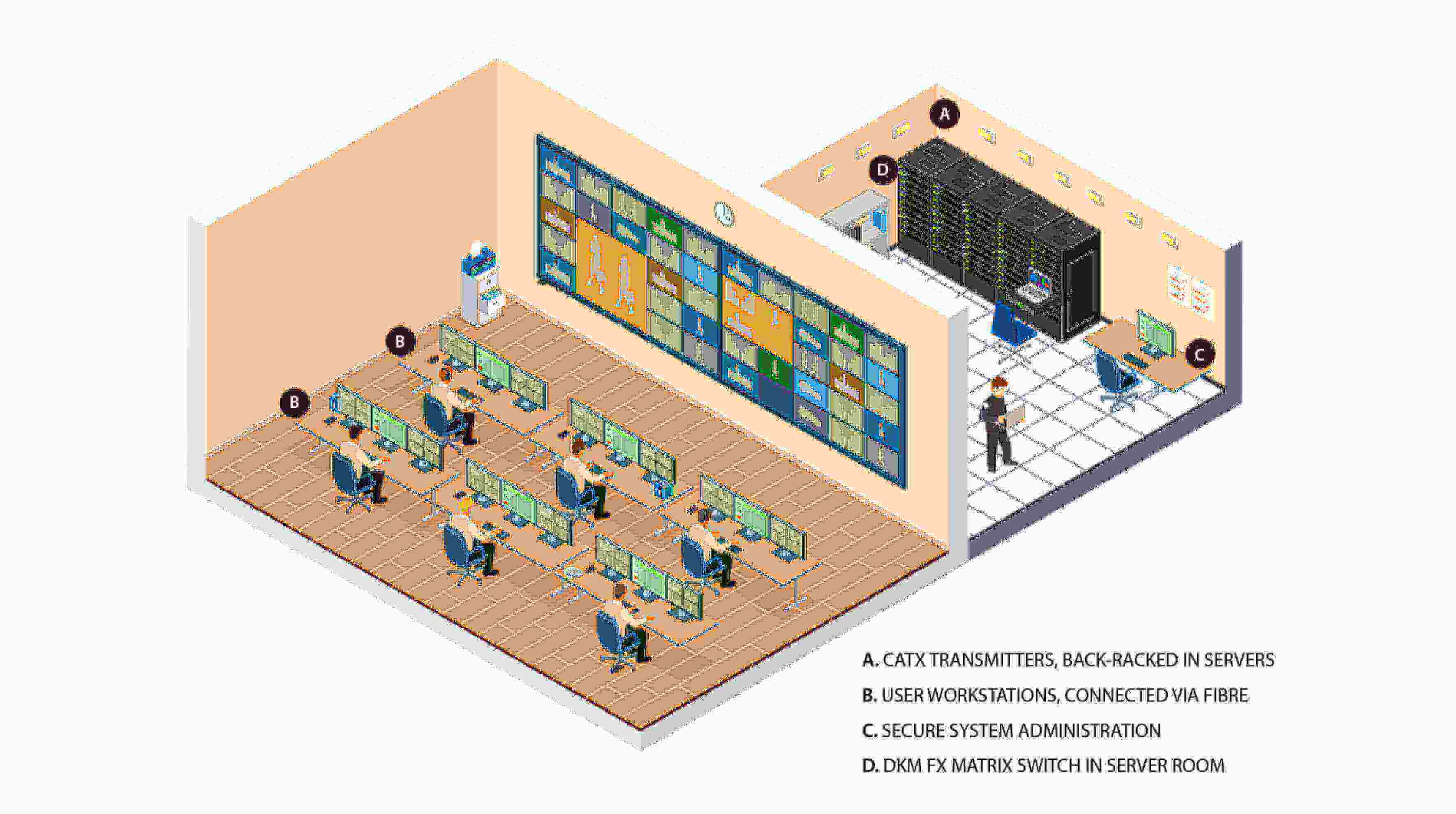 Surveying the situation – concept of signal distribution in a central control room.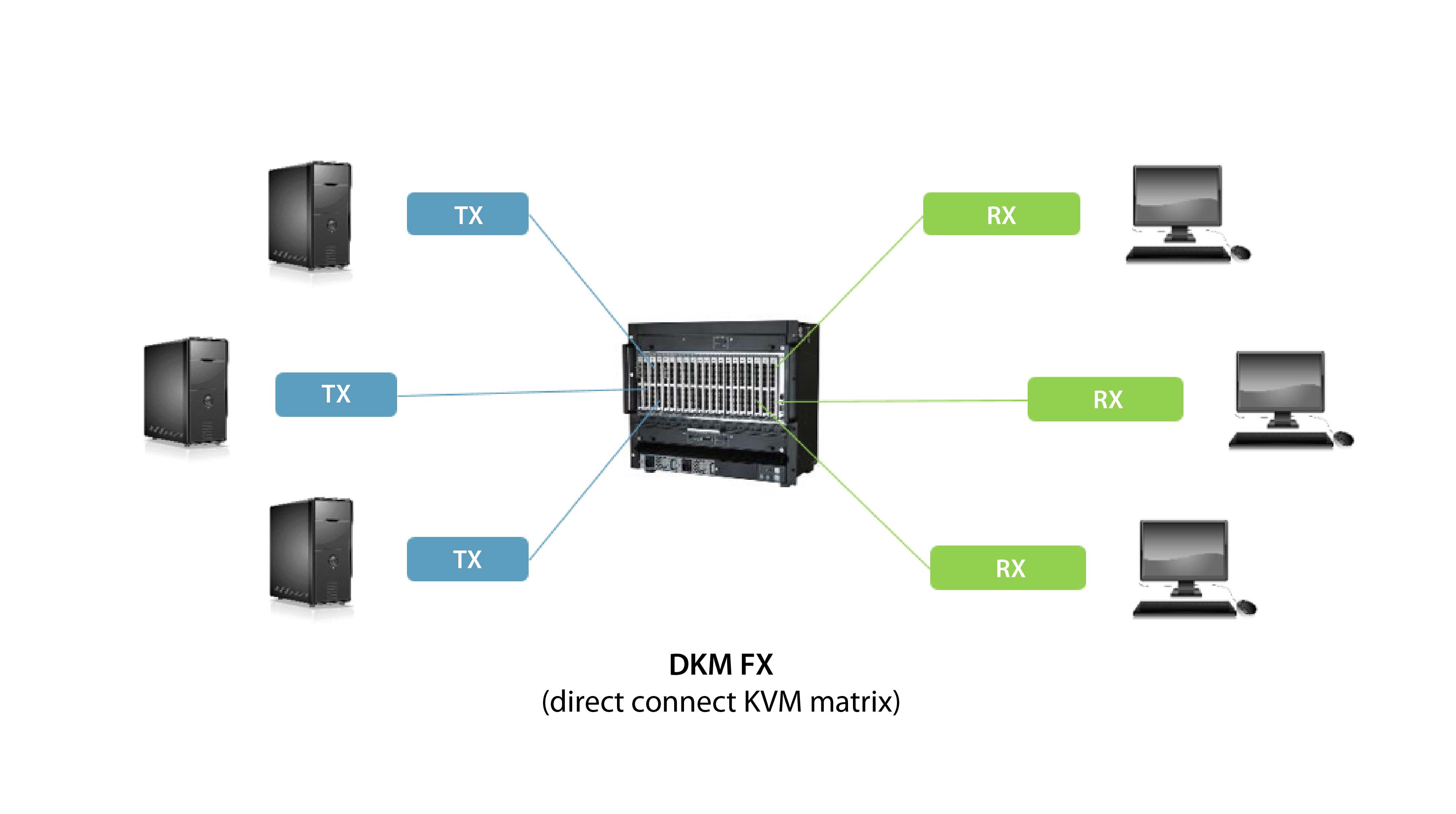 DKM – Direct Connect Distribution concept for utilities control rooms.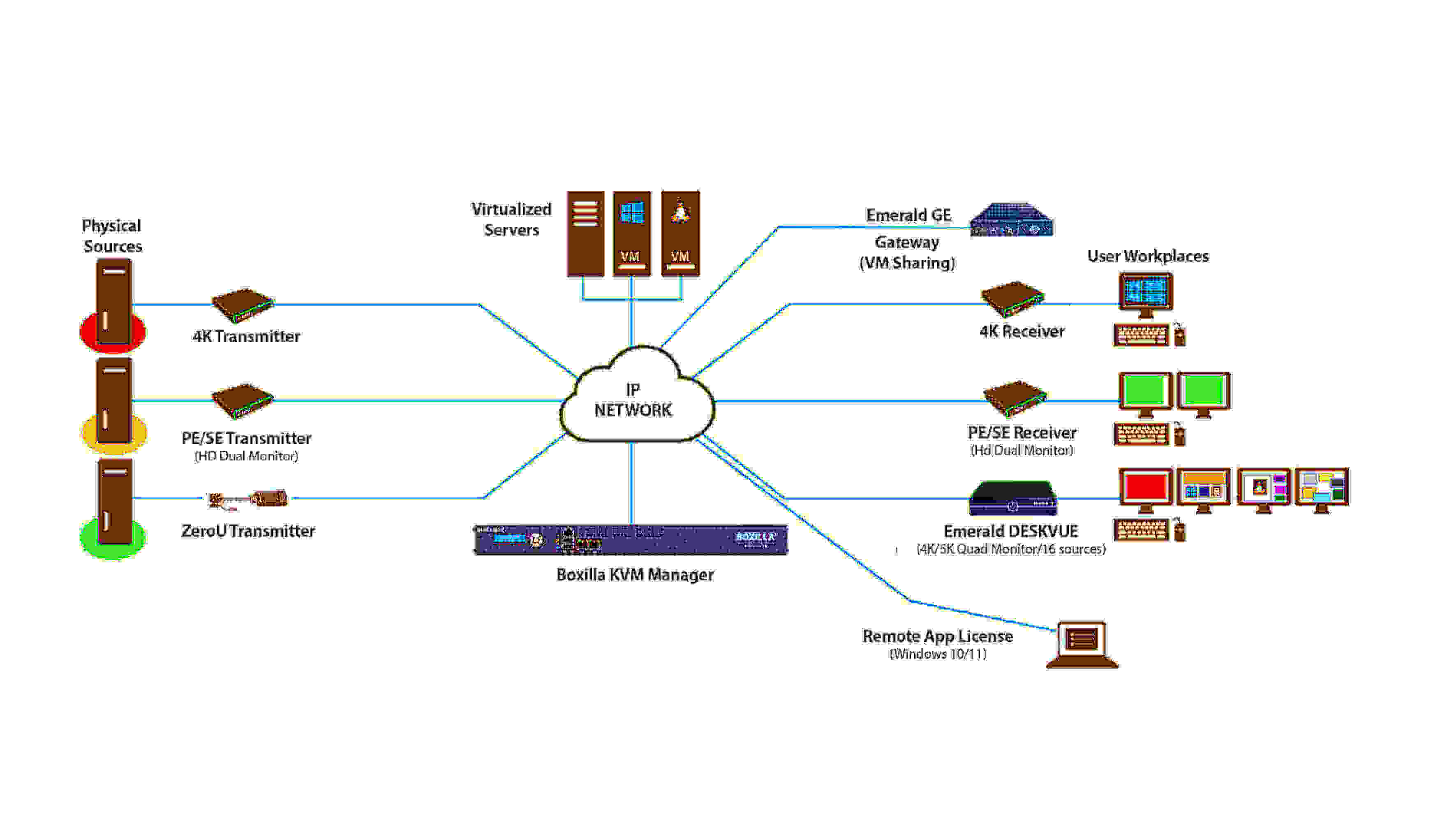 KVM over IP
Emerald KVM over IP Distribution Concept for utilities control rooms.
Featured Solutions
Featured Product
Customer Success Stories
Read how scalable, futureproof KVM solutions helped several customers optimize workflows and increase productivity.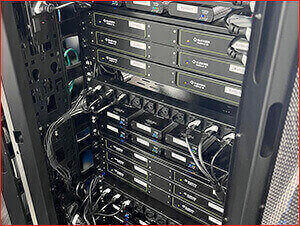 Sabesp Selects Emerald & Boxilla for Control Room
A Brazilian waste management company improves performance and streamlines management for remote users who access its new command/control room.
Read Case Study
Additional Resources
Why Black Box?
Just as your control rooms are the connectivity point for all you do, we make a point of connecting your needs to our services. We bring human-centric technology solutions to assist you in a seamless adaptation toward today's dynamic utilities control room environments and into the future. We analyze your requirements and suggest how control room technology can help meet those goals. We're committed to objective analysis and honest appraisals. By continually investing in R&D, world-class infrastructure, and bringing the best talent from all across the world, we co-create path-breaking technology solutions that deliver flexible, reliable solutions for our customers.
Let us assist you in your project and answer any questions related to your application.
Contact Us